Different Types of Marine Grade Aluminum Sheet
Series: 5083,5052,5086,5454,5A02,5005
Temper: O,H12,H14,H16,H18,H19,H22,H24,H26,etc.
TABLE OF Contents
CONTACT US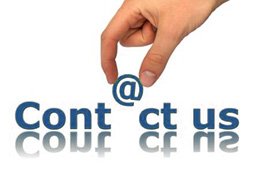 Haomei Aluminum CO., LTD.
Tel/Whatsapp: +86-15978414719
Email: sale@alumhm.com
Website: https://www.alumhm.com
Xin'an Industrial Assemble Region,Luoyang,Henan Province,China
Office Add: 1103, No.14 Waihuan Road, CBD, Zhengzhou, China
Why Choose Marine Grade Aluminum Sheet
Shipbuilding is also moving towards lightweight development like vehicles. The aluminum alloy boats are of lightweight, fast speed and fuel-saving and low cost, which is one of e directions for future ship construction.
At the same time, the marine aluminum sheet is of excellent corrosion resistance. There is a thin and dense Al2O3 film on the surface of aluminum and aluminum alloys which protects the ships from the corrosion of sea water and wind.
Alloys of Marine Grade Aluminium Plate
The marine grade aluminium plates mainly include 5xxx aluminum alloy, especially 5456, 5086, 5083 and 5052 aluminum plates. The common tempers are H111, h112, h321, h116, etc.
5052 marine grade aluminium: It belongs to Al-Mg alloy, containing a small amount of manganese, chromium, beryllium, titanium and so on. The role of chromium in 5052 aluminum plate is similar to that of manganese, which improves the resistance to stress corrosion cracking and the welds strength.

5086 aluminum plate: It is a typical anti-rust aluminum, which is widely used in occasions that require high corrosion resistance, good weldability and medium strength such as weldable parts for ships and automobiles.

5083 aluminum sheet: It is a kind of aluminum alloy with medium strength, corrosion resistance and welding performance, and is easy to process and shape.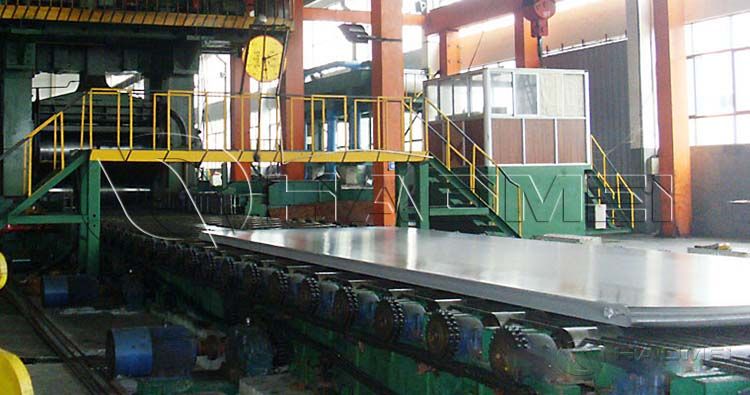 Applications of Marine Grade Aluminum Sheet in Ships
The outside of the side and bottom of the ship can choose 5083, 5052 and 5086 alloy for they can better resist the erosion of seawater and extend the life of the ship.

The top plate and side plate of the vessel on the sea can use 3003, 3004 and 5052, which can effectively reduce the rust of the roof to a certain extent.

The wheelhouse can use 5083 and 5052 aluminum sheet. Since the aluminum plate is non-magnetic, the compass will not be affected, which can ensure the correct direction of the ship while sailing.

The stairs and deck of the ships can adopt 6061 aluminum checker plate.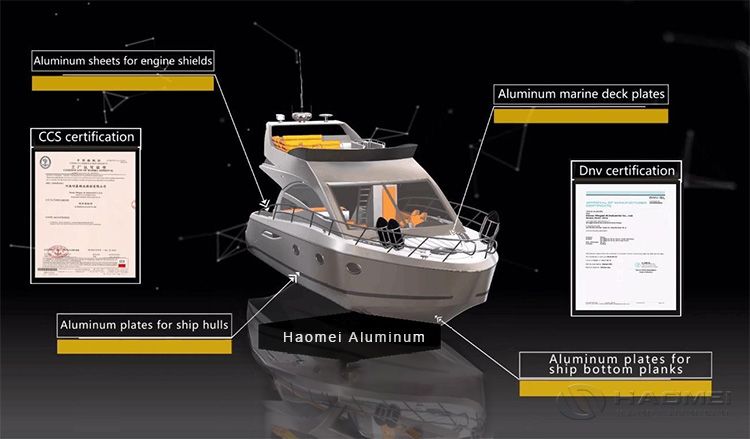 The Specifications of Marine Grade Aluminum Plate
Alloy

Temper

Thickness

Width

Length

Applications

5083

O,H12,H14,H16,

H18,H19,H22,H24,

H26,H28,H32,H34,

H36,H38,H111,

H112,H114,H 116,H321

0.15-500mm

20-2650mm

500-16000 mm

Shipboard, LNG storage tank, air reservoir

5052

H16,H18,H19, H28,H32,H34,

H112,H114

0.15-600 mm

20-2650 mm

500-16000 mm

Ship side panels, ship chimneys, ship keels, ship decks, etc.

5086

F,O,H12,H14,

H22,H24,H26, H36,H38,H111,etc.

0.5-600 mm

20-2650

mm

500-16000

mm

Automobile, ships, fuel tank

5454

H32, H34

3-500mm

600-2600mm

160000mm

Hull structure, pressure vessel, pipeline

5A02

O,H12,H14,H16, H18,H19,

H22,H24,H26, H28,

H32,H34

H36,H38,H111,H112,H114,H 116,H321

0.15-600 mm

20-2600 mm

500-16000 mm

Sheet metal parts, fuel tanks, flanges

5005

O, H12, H14, H16, H18, H19,

H22, H24, H26, H28, H32,H34

H36, H38, H111, H112,H114, H116, H321

0.15-600 mm

20-2600 mm

500-16000 mm

Cooking utensils, instrument shells, architectural decorations, outfitting curtain wall panels

6061

T4,T6,T651

0.2-500 mm

600-2600 mm

160000 mm

Mechanical parts, forgings, commercial vehicles, railway structural parts, shipbuilding, etc.
Why Choose Haomei Aluminum
1. Our marine grade aluminum sheets has got DNV/ABS/NK/CCS/LR certificate.


2. Haomei Aluminum has advanced production equipment, ensuring excellent quality of marine grade aluminum plates.



3. We have strong processing capacity with an annual output of 200,000 tons helping customers seize the market. Welcome to leave message below to inquire marine grade aluminium sheet price.



What Are The Advantages of Marine Grade Aluminum Plate
1. Since the aluminum plate is of low density, the ship weight is reduced and then the engine capacity can be reduced and the speed can be increased. It also helps to save fuel consumption, improve the aspect ratio of the ship and increase the load capacity.
2. They are of good corrosion resistance and long service life, which contributes to lessening the maintenance cost.
3. They are suitable for various forms of processing such as cutting, stamping, cold bending, meeting the requirements of the streamline of the ships. The large, wide and thin-walled profiles can be extruded to reduce the number of welds and rationalize the hull structure.
4. The 5xxx aluminum sheet is of good welding performance, which is easier to weld.