How to Choose Aluminium Checker Plate 6mm
Publish:
Feb 19, 2020
Modify:
Feb 19, 2020
Author:
Dolly
From:
Haomei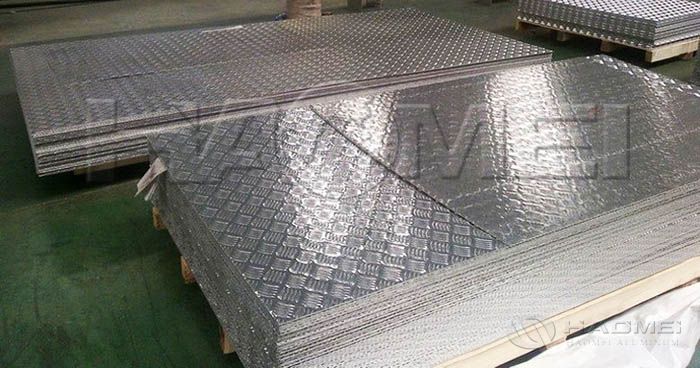 The aluminum checker plate 6 mm is usually about 6.2-6.3 mm because of the pattern thickness. So if you like to buy diamond embossed aluminum sheet, you had better make sure the details first.
The diamond embossed aluminum sheet with rich patterns is widely used for the decoration of ships, bars, bus stairs, bathroom floors and other places. It is of good attractive performance, light weight, non-slip and excellent corrosion resistance.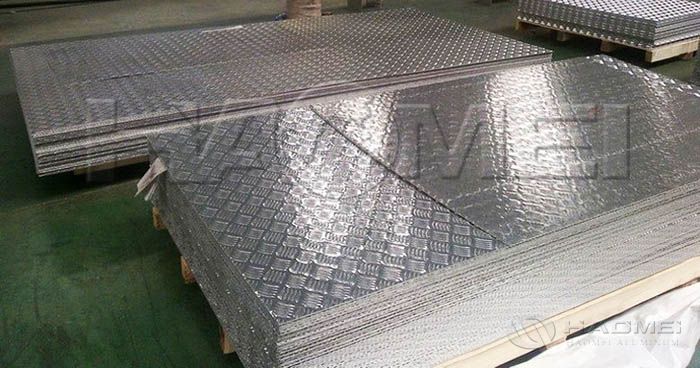 Aluminum checker plate 6 mm is favored by many customers. Some customers reflects that the aluminum checker plate they buy is generally thicker than the actual thickness. The 6 mm thick space reserved originally is not enough to install a 6 mm checker plate. Then how to calculate the thickness of the aluminum tread plate when buy it?
Take the Haomei five bar aluminum checker plate for example. Generally, the thickness of the tread plate is about 5.7 mm and the thickness of five bar pattern is 0.5-0.7 mm. Therefore the actual thickness of the five bar 6 mm aluminum checker plate for sale is about 6.2-6.3 mm.
So if you like to buy aluminum checker plate 6mm, please make sure these details with the aluminum tread plate suppliers. This thickness error also applies to other aluminum plates like 2mm, 3mm, 5mm,etc.
TABLE OF Contents
CONTACT US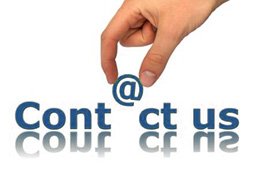 Haomei Aluminum CO., LTD.
Tel/Whatsapp: +86-15978414719
Email: sale@alumhm.com
Website: https://www.alumhm.com
Xin'an Industrial Assemble Region,Luoyang,Henan Province,China
Office Add: 1103, No.14 Waihuan Road, CBD, Zhengzhou, China